I have been looking for a voice amplifier for the classroom for a few years now. Now that I have to wear a mask to teach I decided to just bite the bullet and make a purchase. I read a bunch of reviews and there were several companies selling what seems to be the exact same voice amplifier. After I added it to my cart I went camping for 2 days and then when I got home I was notified that the price jumped. Sure enough, just about every voice amplifier has gone up in price. My guess is a lot of teachers are looking for voice amplifiers for the classroom now that many of us have to wear masks.
This post contains affiliate links.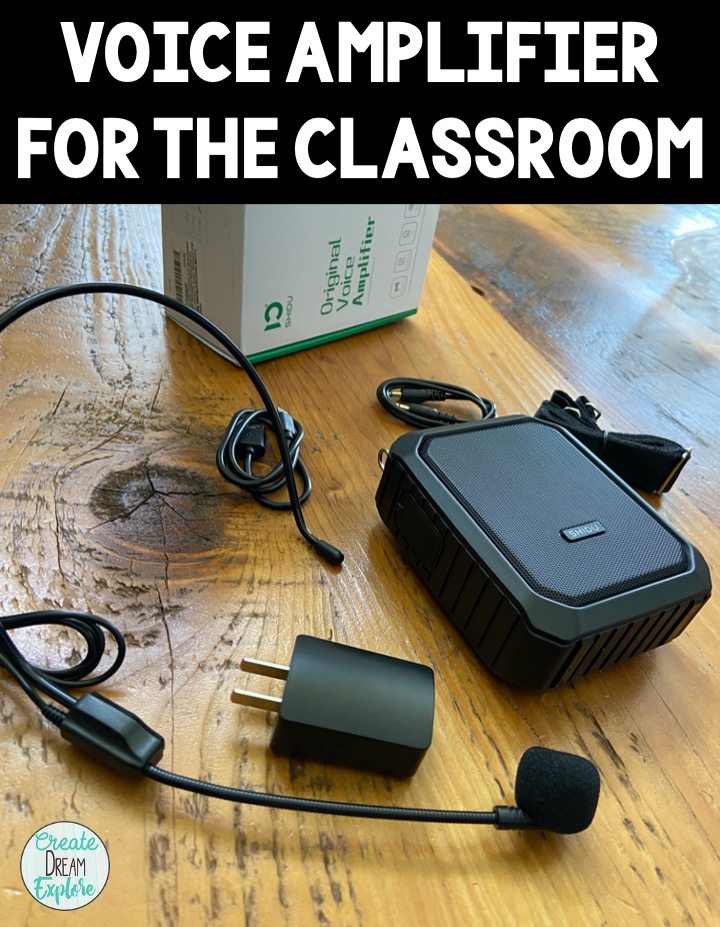 Voice Amplifier for the Classroom:
The brand that I purchased is Shidu Original Voice Amplifier. You can see in the image about that the box contained a headset, a wall plug and cord to charge the device, a shoulder strap, and a 3.5mm cord.
I have Amazon Prime so I received it within 24 hours of my purchase. It already had some charge right out of the box so I was able to test out the voice amplifier right away. I should say that the company did not send me this amplifier and I am in no way affiliated with the company that makes these. I will be sharing my Amazon Affiliate link to the specific one that I purchased. It doesn't cost you anything to purchase through my link.
My Honest Review:
It's decent. Is it amazing? No. Would I buy it again? Yes! You can't go wrong with the quality for this price point. I have used better amplifiers but they were several hundred dollars more and that is just not in my teacher budget. The sound quality was good. There was a bit of feedback when I first plugged it in and when I unplugged it (but maybe just don't have it turned on when you're doing this).
The headset was comfortable and lightweight. I appreciate the shoulder strap for those days that I don't have pockets.
The device itself isn't super light but I wouldn't say it is heavy either. I think it is just something I will get used to.
The one that I purchased is wired to the pack that you carry on your shoulder strap. The wire doesn't bother me at all and it was $40 cheaper than the wireless version. The wireless version does seem to have good reviews.
Voice Amplifier with a Mask:
I tried the voice amplifier both with and without a mask. It is considerably better without the mask. There was a noticeable difference in how loud I sounded once I put my mask on. That being said, it was still amplified and sounded 100% better than I sounded without the voice amplifier.
There are some other features that I will never use. You can apparently use this as a bluetooth speaker. I already have a really awesome bluetooth speaker for the classroom so I just won't use that feature.
The bottom line is that this voice amplifier seems to be great for classroom teachers and will definitely help students to hear you with or without a mask.
Voice Amplifier Video Review:
I hope this helps you with your purchase decision.