Insignificant Events in the Life of a Cactus is a fabulous book for a class read aloud OR for literature circles and independent reading as well. If you haven't read this book already with your students, I highly recommend it! There are a few parts that are a bit mature so I would recommend this book for grades 5 and up.
This book is about a middle school aged girl named Aven who was born without arms and was adopted by a nice couple. The story is written from Aven's perspective. It follows along with her as she moves to Arizona and has to overcome the regular challenges of moving and making new friends but all without having arms. It's a story of resilience and determination that will also help readers to develop more compassion and understanding for those that are different.

This post contains affiliate links.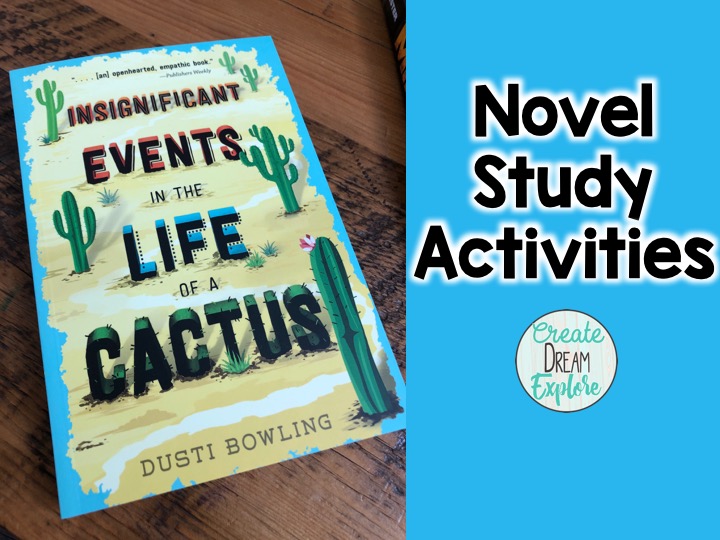 My students had many good laughs as we read through this novel. It also helped us to really understand the main characters feelings and develop empathy for her and other differently abled people.
I've compiled a list of some activities that worked well with my students so I thought I would share those with you. This list is in no particular order except the first item which I always do first.
Novel Study Activities for Insignificant Events in the Life of a Cactus:
1. Read the cover and the back of the book to students OR if they are doing literature circles have them read it together. Then we discuss our thoughts, predictions, and wonderings. Sometimes I will have them write these on sticky notes for us to refer back to later and to compare our thoughts from the beginning to the middle and then the ending.
2. Making Connections: We began learning about making connections just prior to starting this read aloud so naturally I tied the two together. I read a few chapters and had students make connections on sticky notes. Their connections were very surface level so we used examples from the book The Insignificant Events in the Life of a Cactus to make deeper connections.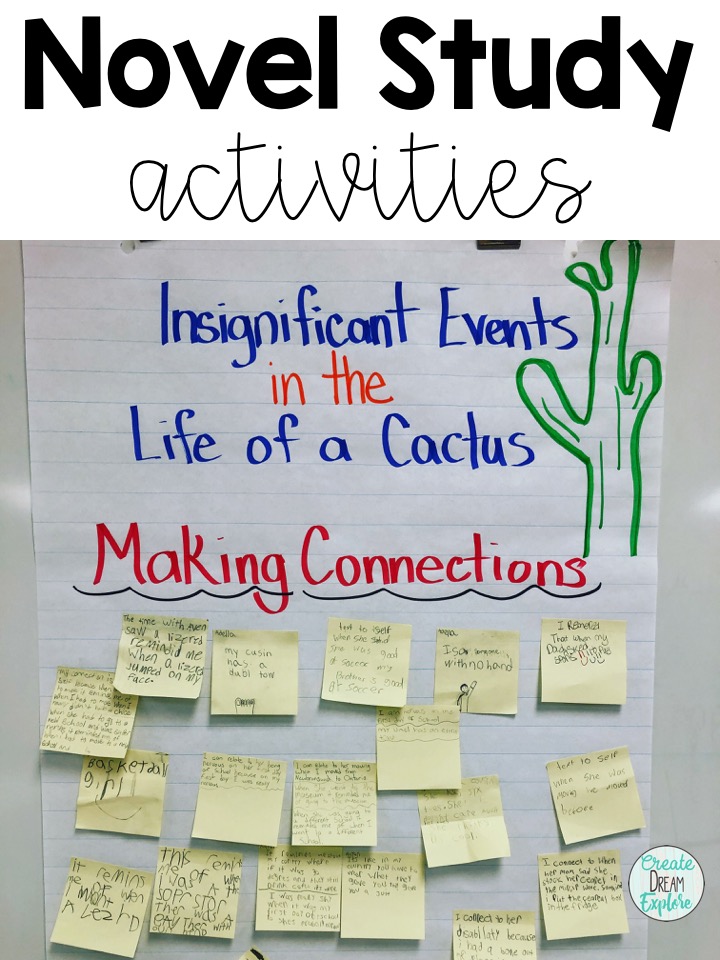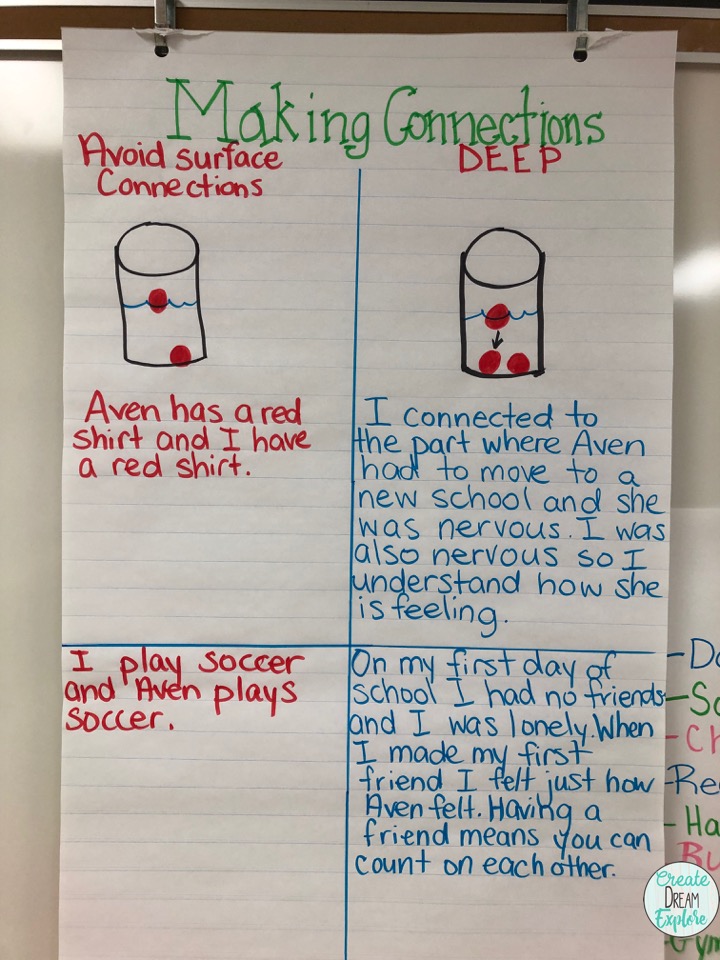 3. Design a New Cover – This is one that can be used with any read aloud that you do and helps students to think deeply about the text in order to plan new ideas for the cover.
4. Share some youtube videos of people who are differently abled. I found a few videos of people who were born without arms just like Aven so it helped to bring a real life connection to my students. I really liked this first video because it shows both a mom and her son and how they live life to the fullest just like Aven tries to do.
This is another  great one:
5. Have students
summarize chapters
and
respond to comprehension questions
. I have developed questions for every chapter that are included in my 180 page novel study found
here
.
6.  There is a sequel to this book. You can have your students write the first chapter for the sequel.
7. Rewrite the ending.
8. What is it like for Aven? Provide your students with a piece of paper and writing materials (pencil or colored pencils would be best). Talk to them about the challenges that Aven has had to overcome in her life and what we might take for granted. For example, eating and using a pencil. Then challenge students to try to write their name without their arms. Give them about 5 minutes to try it out. When the time is up, talk to your class about the things they noticed and felt. Were they frustrated? Mad? Did they laugh at themselves? Were they determined to make it work? Did they give up?
9. Aven has her own blog.
Have your students create a blog written from the point of view of Aven
. They could also write their own blog. If your students have access to GSuite for Education they can use Google Sites to do this. They can also write it on paper if tech isn't an option. I have included templates for blog pages in
my printable novel study
as the digital Google Slides version (both are included).
10. Design a tool to help make Aven's life easier. In the book she has a tool to help her put her pants on. Students should consider other tools that might be helpful to her: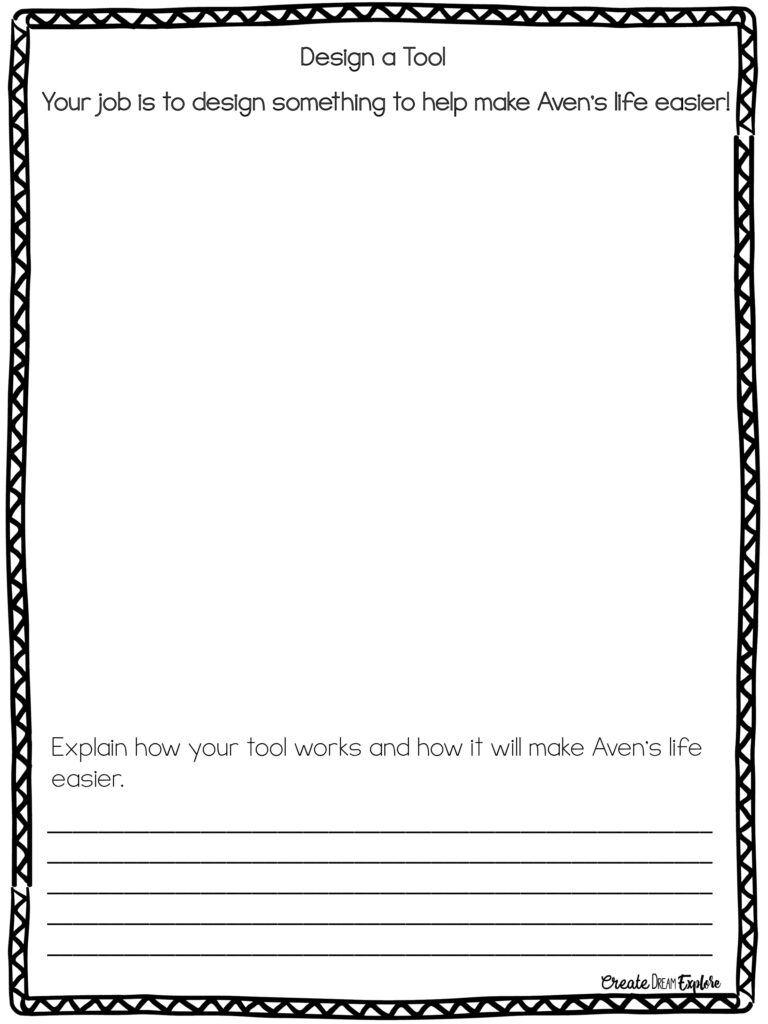 Give
this book
a read! I promise, you won't be disappointed! When you're finished reading it, I would love to hear your thoughts. Share in the comments below or tag me in your social media posts @create_dream_exploreIf you're looking for other novel study ideas you can check out my ideas for the book
Refugee by Alan Gratz
as well as
this post for ideas for ANY novel study
.