I was going to start by asking, "Have you ever wanted to write report card comments faster?" but then DUH of course you do! I don't even need to ask. ChatGPT is an AI application that basically does everything! From creating a three day split workout plan to writing your lesson plans and report card comments.
ChatGPT is currently free but I'm betting that there will be a fee attached in the future. So hurry up and get your report card comments done!
I'm in report card writing mode right now and have been using ChatGPT to write my report card comments much faster. Is it perfect? No. But does it help with giving you a variety of comments or new wording to select from? Absolutely. I used it to create a base report card comment or learning skills comment and then tweaked the ChatGPT version to better reflect my students. One of the struggles I always have, is with coming up with the initial wording for my report card comments. This saved me time and helped me to complete my report card comments faster.
Sample Report Card Comments Using ChatGPT:
The beauty of ChatGPT AI is that it also learns as it goes. Check out these sample tasks I gave it:

Now check out how ChatGPT learns when you give it more information: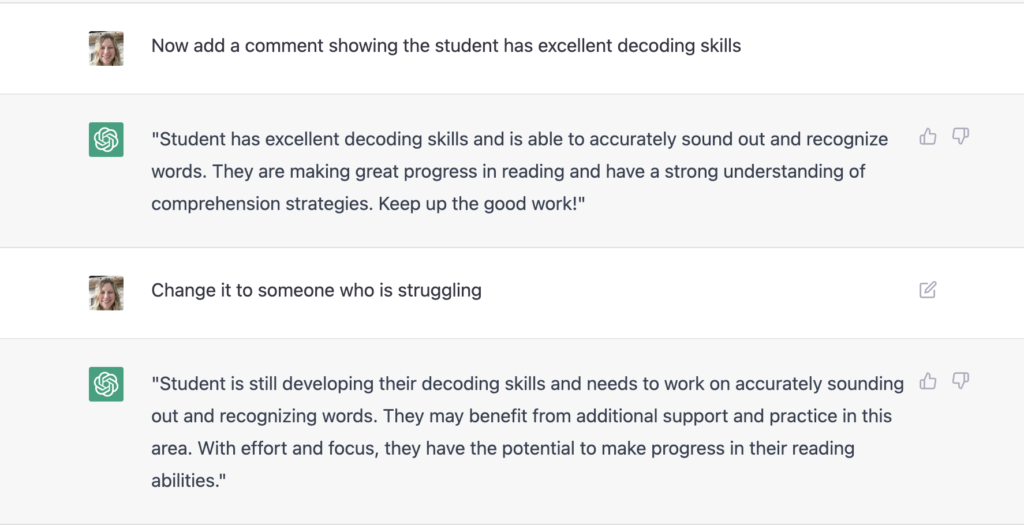 I am not kidding when I say that I played with this for hours! When I tried out various subject report card comments as well as learning skills type comments, it worked every time. I was pleasantly surprised at how natural the text sounded and how well it fit in with the work I have done in the classroom.
Here is a sample of a learning skills comment that it came up with. You can see the additional information that I entered into ChatGPT. This was so quick and easy to use. You can change the learning skills comment to reflect a student who is struggling or to someone who is doing well. You can even type, "Make this comment better" and it will! It's like having a personal assistant but for faster report card writing.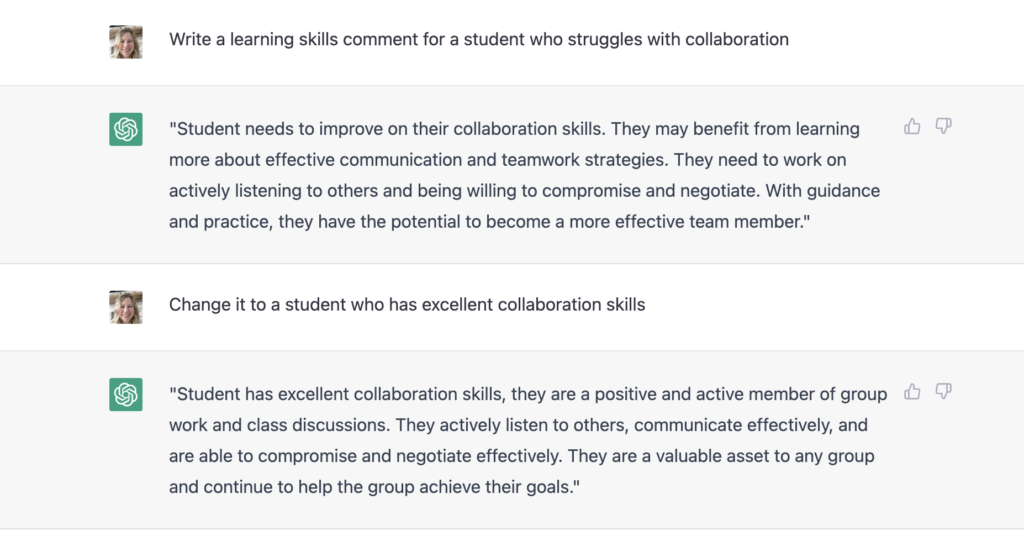 I have a feeling that ChatGPT will soon have a fee attached to it, so play around with it while you can!
The form you have selected does not exist.