As someone who utilizes a lot of digital resources, I am always looking to try out new engaging classroom video activities. Each school year I end up switching grades or I'm assigned a split grade. This means I end up teaching several of the same students for more than one year. I hate repeating the same lesson activities with students so I need to be on the lookout for new ideas. Enter the unboxing video! This is a fun classroom video activity that involves students creating their own unboxing videos.
We got the idea to use unboxing videos from Ditch That Textbook who has an amazing website with a wealth of knowledge. I highly recommend checking out his site. He goes into more detail about all of the tools students can use to create their unboxing videos as well as other classroom video activity ideas. His post also lists a variety of ways that you can use this concept. We let students choose what they wanted to unbox and I've included our Slide Deck below in case you want to make a copy to use with your own students.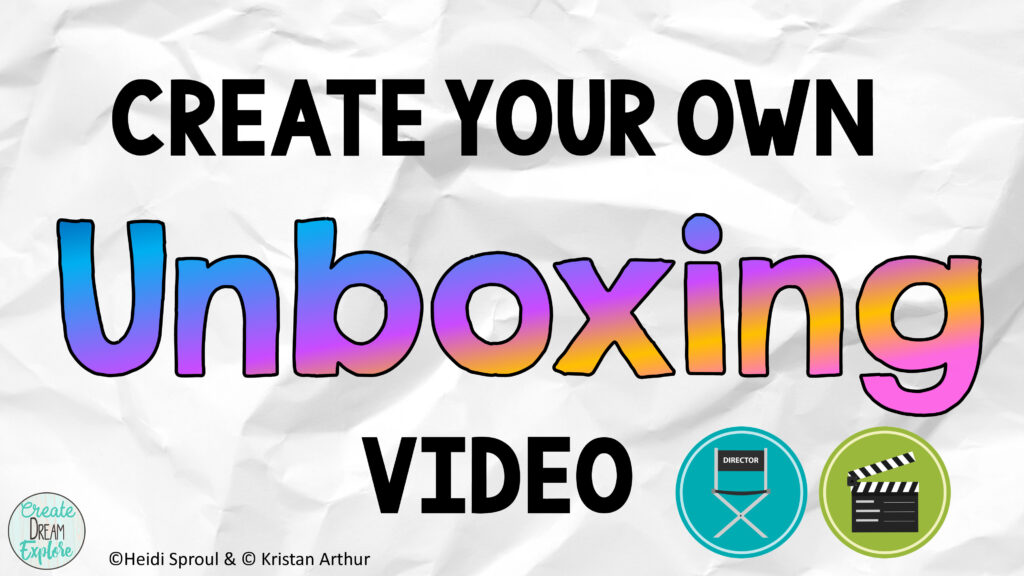 My kids LOVE to watch unboxing videos. They will watch other kids opening toys, families opening snack subscription boxes, and my oldest loves to watch iphone unboxing videos. I knew this would be a fun classroom video activity for my students! Right now we happen to be distance learning but originally my coworker, Kristan and I had planned to do this with in person teaching. We were going to have our students "unbox" their desks as a means to get them to clean them out. Then we ended up getting locked down so we worked together to come up with a plan for students to do this at home.
How we got started with the videos:
We decided to let students create their unboxing video with whatever items they wanted at home. When we presented the unboxing video assignment to them, they were over the moon excited. Their wheels started turning right away and I almost had to mute them all!
To begin with, we had them watch snippets of a bunch of different unboxing videos. We made a list of criteria for what made a good unboxing video. Then they made jot notes about what they wanted to include and then they got to filming. Our videos focused more on the subscription box style of unboxing videos so we had students include a "note to receiver". We used this video assignment to get writing, media literacy, drama, and oral communication grades.
The video recording tool we used was Flipgrid. It has a ton of creative elements that students can use in their videos. It also allowed us to do a follow up assignment where students recorded video comments on their peers videos. They had to leave two stars and wish.
This classroom video assignment was so much
You can grab your copy here of the template we made to use for our student's more general videos. Head over to Ditch That Textbook and grab their free template too. No matter which template you use, I highly recommend reading their blog post about classroom unboxing videos and definitely buy his book! You won't regret it!
Looking for more digital acitivites? Check out my collection of Digital Google Classroom ready resources.