In years past I would send home a printed copy of a parent survey during the first week of school. On average I would get 50% of these back if I was lucky. Parents are often as overwhelmed that first week as we are. They are inundated with forms to sign, surveys to fill out etc. As a mom of three I have totally felt overwhelmed with it all BUT as a teacher I am guilty of sending the paperwork home.
Last year I decided to switch things up. I held off on the survey the first week and I waited until our Meet the Teacher night to ask parents to fill it out. I also turned my printable survey into a digital form which made it easy and efficient for parents to fill out. We have a drop in style Meet the Teacher night so I simply set up a few chromebooks on a table and I made a sign directing parents to fill out the form. This worked out so well for me. It meant that I didn't have a line up of parents waiting to speak with me because they would be spending some time filling out the survey first. It ended up staggering the lineup of people waiting for my attention and it gave something for parents to do while they waited.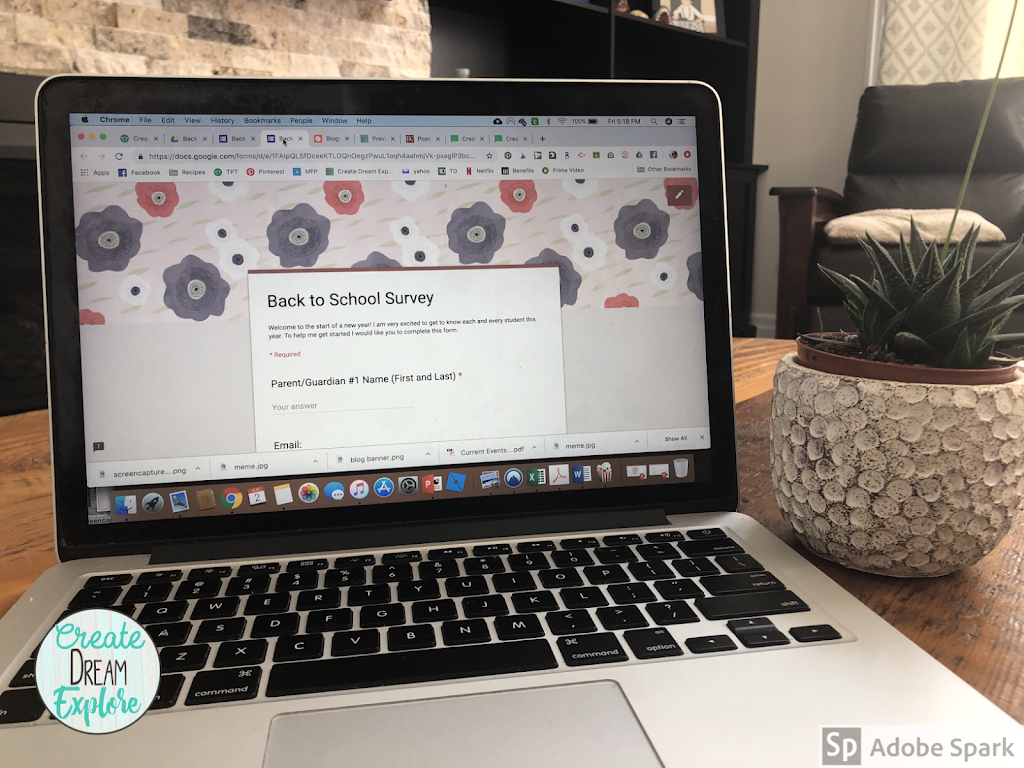 I also loved that  I didn't have to deal with the paper copies after and I could access the information at any time from my laptop. Now, you don't have to go digital in order to use this strategy. You can simply put the paper copies of your survey out on a table with some pens and have parents fill them out that way. I just prefer the digital method.
I use Google Forms to create my survey because my district subscribes to G-Suite and because I love the simplicity of it as well as how convenient it is. You could do something similar with Google Docs or using the Microsoft Suite.
If you would like a copy of my Digital Back to School Parent Survey you can grab it for free by signing up for my email list. When you sign up a link will be emailed to you. You might need to check your Spam Folder if you don't get it. If you don't want to remain on my list you can just hit the unsubscribe button. That being said I only send out about 1-2 emails per month and they usually include new blog posts, sale information or updates on new (and awesome) G-Suite teaching resources.
You can check out this post for ideas on how to use Google Slides in the classroom and this one for how to use Google Forms in the classroom.