I've been scouring "the net" trying to find fun and engaging ideas for my Google Meets during this distance learning. I found some great ideas like scavenger hunts and bingo games. Then I came up with the idea to have a mystery guest for Google Meet.
While I was searching I got a message from the teacher whose class I took over mid year. She asked if she could join our Google Meet one day to do a read aloud and I, of course, said yes! Then I thought, wouldn't it be fun to make it a surprise?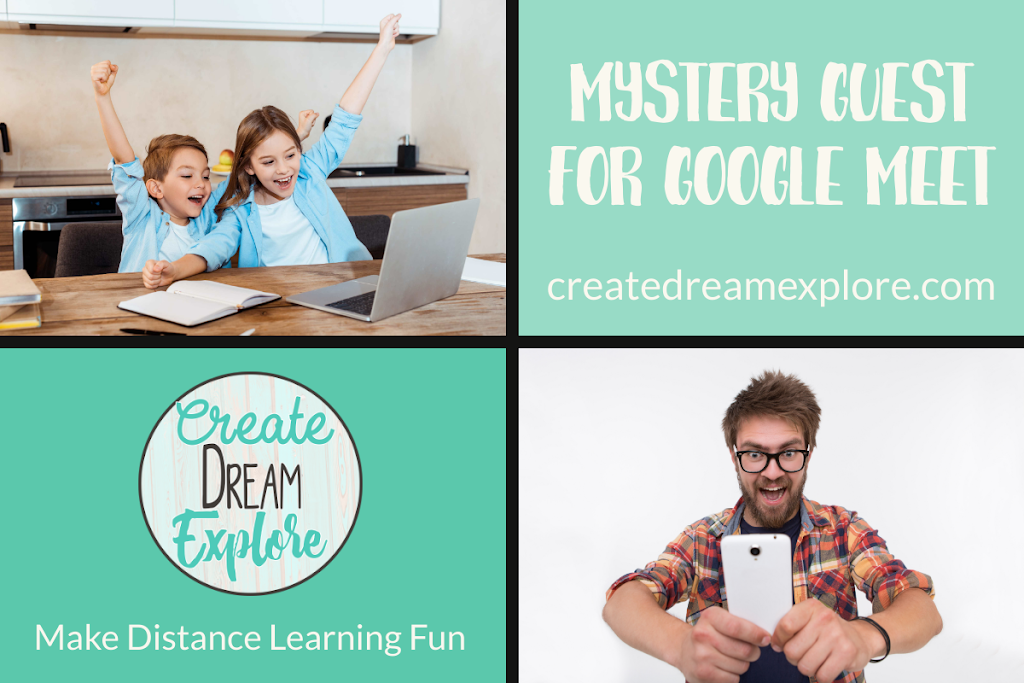 Setting Up Mystery Guest for Google Meet:
The problem with having a mystery guest on Google Meet is that your name shows up with your picture so students would know right away who the guest was.
I solved this problem by creating a new Google Account with a fun username. I used "mysteryteacher" as the username for the account. Then I went to my own school account and created a meeting in Google Calendar with a Google Meet attached and I invited the MysteryTeacher account. This way an invite was sent to the Gmail account. I then sent the login information to the special guest so she would now have the meeting link and would able to use the account to join the meeting. I wasn't able to use the Google Classroom generated link because in my board outside email addresses can't join meetings that are generated through Google Classroom but setting it up through Google Calendar worked.
The mystery guest joins the meeting with microphone muted and camera off.
Prior to the meeting I told students that we would be having a mystery guest and that they should start thinking of a few yes or no questions that they could ask the mystery guest. They were not allowed to ask the identity of the guest. Each student was allowed to ask one question but just in case someone else asks their question first then they have some backup questions. The mystery guest answers the questions in the chat so as not to give herself away by her voice. Once each student had asked their question, I allowed them to start guessing the identity. They did guess her identity and at that time she turned on her mic and camera. The kids were so excited to see her!
My plan now is to change the password on the account and send the new login information to the next mystery guest. I plan to have a new mystery guest each week.
Some ideas for mystery guests:
Principal or vice principal
Specials teachers (music, Spanish, French, gym, etc.)
Another teacher from the school but not one that teaches the students
One of your own children
A student from another class
Your spouse/partner
A pet
Community helper (firefighter, paramedic, police officer)
Scientist
Politician – mayor or other local official
Any other person related to a unit of study
A teacher from another country
The engagement level was so high after this meeting and students got to work on their school work right away after. I highly recommend doing this!
If you try this out I would love to hear about it!
For other great distance learning ideas you can check out this post here.
And if you're in need of digital resources for your Google Classroom, I've got you covered here.