Fractions Lesson Ideas for the Middle Grades: 
There is a big jump from teaching fractions in the primary grades to teaching fractions in the middle grades. Many of my readers already know that I used to teach grades 1 and 2 but have since moved into teaching in the middle grades (grades 4-6). I was surprised at the huge jump in what students need to learn. In the younger grades it is basically just identifying fractions as part of a whole. In the middle grades we are making equivalent fractions, simplifying fractions, adding fractions, multiplying fractions etc. So being new to the middle grades I went on a hunt for some great fractions lesson ideas and I'm sharing some of those with you as well as some of the hands on materials that I have been using in my classroom.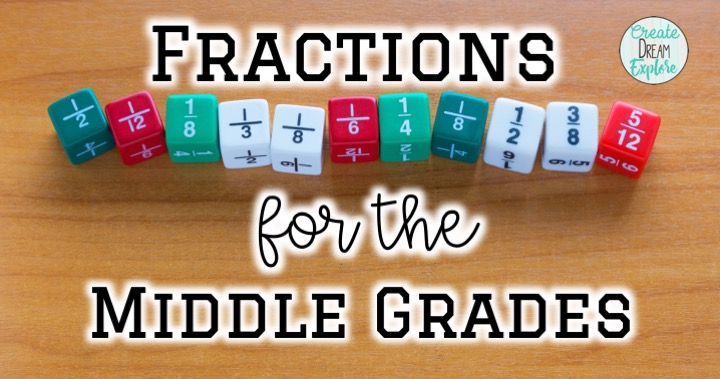 Hands on Fractions Manipulatives
It's important for students to have some experience with hands on manipulatives. A fraction is an abstract concept so until students grasp what a fraction really is or what an equivalent fractions is they won't be able to effectively solve problems with fractions. They need the hands on experience, they need to see and touch for themselves. Are there great apps out there with manipulatives? There sure are and we use those too. Apps come in handy when you don't have a class set of manipulatives like me. So instead I have purchased enough hands on materials to use as a centre and then we also use an app at some centres.
There are many materials you can use like
cuisinairre rods
or
fractions towers
. Since I often use my materials in centres, I purchased a variety of magnetic fractions manipulatives. They work great for when I'm teaching whole class or small group lessons or  for when we do math centers for fractions. I found these magnetic
cuisinairre rods
 as well as
magnetic fraction tiles
to use in place of the more expensive fractions towers: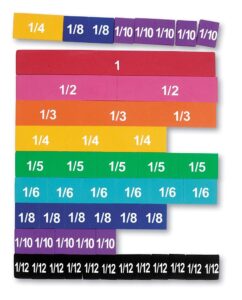 My favorite magnetic manipulatives are the
magnetic fractions number line
materials pictured below. I found them very useful when teaching about equivalent fractions: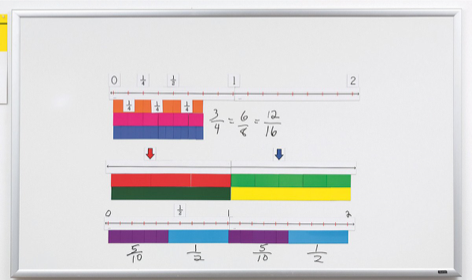 Fractions Lesson Ideas for the Middle Grades:
In my hunt for some great fractions lesson ideas I came across the following blog posts that I found helpful and I think you will too. Fractions can be a challenging topic to teach and challenging for students to understand. Meg from the
Teacher Studio
has an amazing
blog post
about why fractions are so challenging. She goes into detail about the various teaching points and why they are important. If you search through her site she has dozens of other posts just about fractions.
Teaching Fractions on a Number Line:
Teaching students to use a
number line for fractions
is important. We want them to understand that fractions aren't just a part of a pizza. They need to have a good understanding that a fraction is a part of a number. Shelley Gray has an awesome
blog post
about teaching fractions on a number line. She even includes a FREE lesson plan. You can check her post out by
clicking here
.
The Clothes Line Strategy for Math:
You can use t
his strategy
for many math concepts. I used it for ordering fractions, equivalent fractions and matching fractions to their models.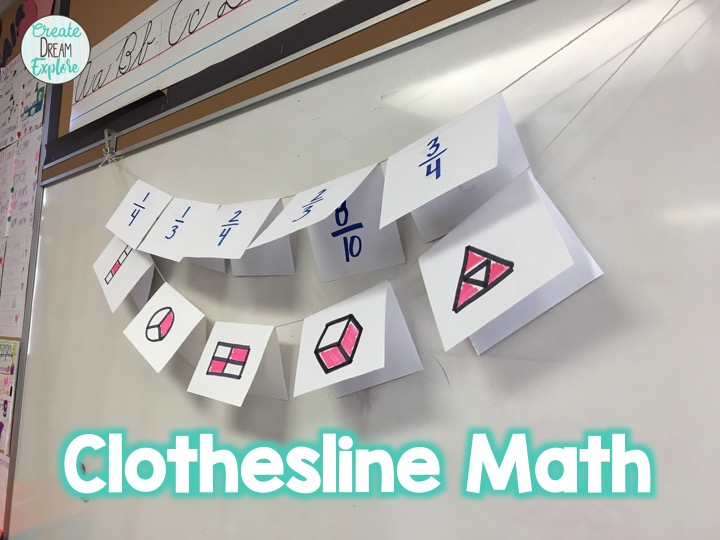 Teaching Fractions with open ended word problems:
It's important to have a balance of different types of problems for your students to solve. It's okay to give them practice problems on a worksheet that have one answer BUT you need to balance that with open ended problems. In fact you might even want to tip the scale towards MORE open ended problems than closed, single answer problems. Open ended problems allow for critical thinking and great discussions in your math classroom. Fun in Fourth has a great
blog post
that includes an open ended fractions word problem from
Marilyn Burns
.
Comparing Fractions Using Playing Cards:
The Tarheel State Teacher wrote a great blog post about using playing cards for practice with comparing fractions. I love this idea because it gives students an opportunity for purposeful practice and she provides several ideas for ways to increase the rigor. You can check her blog post out by
clicking here
.
Fractions Anchor Chart:
When looking for sample anchor charts the first place I go to is Pinterest. There are tons of sample anchor charts there but my favorites are from Teaching With Simplicity. Her anchor charts are all visually appealing and very clear for students. I used her charts as a starting point for creating anchor charts with my students. I am a firm believer that you need to create your anchor charts WITH your students, not ahead of time. So, I use these anchor charts to get an idea of where I want to go with my students but we create it together. Here's a link to her
Fractions anchor charts
.
Equivalent Fractions:
Fractions Read Aloud:
I'm putting this at the end but really, I think this is a great idea for when you are at the midpoint of your fractions unit or when you find students are struggling.
Stefany from Learning with Miss Stefany gives you a review
of a great read aloud along with a free game.
Fractions Math Talks:
I like to do a math talk several times a week to help build fluency. This is a great site for fractions talks.
Let me know in the comments if you have any more great ideas for teaching fractions in the middle grades!