While there are tons of math sites out there for teachers to use in the classroom, not all of them are great. I've tested out many math sites with my students and I'm sharing the ones that I felt were the best. By the best I mean there is more math than fluff. These websites fit in well with research based approaches. These math websites will help your students to build fluency with purposeful practice.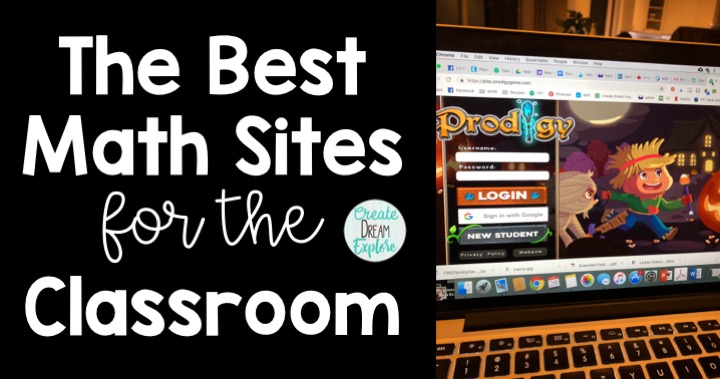 I have included a mix of math sites. Some are for student use, some are for teachers to use with their students. They are not ranked in any way, I like them all for different reasons. Read on to view my top math websites.
Math Websites for Use in the Classroom:
1.
Khan Academy
– This is one of my favorite math websites to use with students. I often share the "how to" videos in our google classroom. Students can watch the videos at home when they're stuck on a homework assignment. I also have them use the video in class to refer to during a work period. You can create assignments for students to work on as well. I love that I can differentiate for my students who are working at different grade levels. I also love that I was able to import my class list right from Google Classroom (you don't have to have Google Classroom to use this site).
2.
IXL Math
– I love that on this website you can choose from 1 of 14 countries and the questions will match the curriculum from those countries. You can have students do up to 20 questions per day for free on this site. They have a paid version as well but I have found that 20 questions per day is enough.
3.
Prodigy Math
– This is a game that takes students into a world where they are assigned questions based on their needs. It gives student a diagnostic test to determine what type of questions to give them. I also love that it reports how students are doing so you can track progress and easily see where students are struggling. The program is free for teachers and for students to use while at school. There is a paid version that parents can buy that gives the students more items and allows them to use it at home.
4.
Knowledge Hook
– This site is AMAZING! It's kind of like Kahoot but all of the games are created for you already and they are all math based. You can create missions for students OR play a game show with the whole class. My students also love it. One feature that I really like is that you can choose for your students to show proof. They do their work on paper and then take a screenshot of their work for you to review later. This is a paid website. My district bought all teachers a license for it and so far everyone seems to have positive things to say.
5.
Estimation 180
– I use this website often for math talks. There is a full year of pictures for students to use for estimating. We use this website 1-2 times per week for about 10 minutes and students love it. It is great for math talks. Estimation is an important skill for students to build.
6.
Which One Doesn't Belong
– This is another math website that I use for math talks. They also provide a picture and students discuss and think about which ones doesn't belong in the image.
7.
Math Before Bed
– This website was created for parents to spark math conversations with their children but I use it in the classroom all the time for math talks. This site is another one that provides picture prompts to spark math talk. I also follow them on Twitter and share their posts with families.
8.
Nrich Math
– This website was created by the University of Cambridge. It provides free information for teachers and students. There are interactive activities for students to use.
9.
Problem of the Week
– This website was created by the University of Waterloo in Canada. They provide a problem of the week for various grades. All of the problems provide rich math tasks for students to work on. In the past I have sent these home for homework or sometimes I throw one up on the projector and have students complete it with their math partner.
10.
Math Playground
– This site is just for students. They provide a variety of math games to choose from. Some of the games are better than others so you might want to go through and pick and choose which games you want your students playing. I do like that you can select the grade level. I use this website on occasion for students who have finished all of their work.
11.
Mathgames.com
– This website has tons of decent quality math games and worksheets as well. Most of the content on this math site is free but there is a paid option that you can upgrade to.
12.
Math is Fun
– This math site has some decent and free math games and activities for students.
13.
MathTV
– This math website includes a ton of math videos that you can share with students to review concepts.14.
Fractions Talks
– This is a perfect addition to your math talks routine.15.
Math Pickle
– This site has some awesome online math puzzles for grade K-12.
16. Expeditionary Math – This site includes grade 3+ explorations, wonders and lessons.
17. MultiplicationGames.com – This math website is full of fun and educational multiplication games. It is a fun way for children to learn the times tables.
Do you have any more awesome math websites for teachers or students? Share in the comments!If you're interested in other digital resources for your students you can check out all of my
G-Suite compatible resources here
.
The form you have selected does not exist.